The Business Value or In-Person Collaboration with Partners
There is definitely value in using videoconference and collaboration tools when communicating with partners and suppliers. I believe it is all about when and how we use it that truly reflects the value of the tool.
As I read the latest whitepaper published by Cisco Telepresence entitled "Power of in-person: The Business Value of In-Person Collaboration" I was fascinated by some of the lower results pertaining to the value of in-person communications with partners as a critical factor to business successes. Communication with Customers and Colleagues in North America was rated around 15 points higher than the value of in-person communication with partners, which had only 62% of business leaders indicate that it was critical to their business success.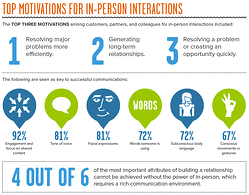 Why are partners not on our communication Radar?
This is a very interesting trend that could have received a little more attention. Here are some questions that I would have been interested in some in-depth examination from the online survey conducted by the Economist Intelligence Unit.
Why are partners or suppliers not on the same level on our radar in comparison to our customers and colleagues when it comes to in-person communication?
What are some of the barriers that need to be addressed to raise the perspective value of in-person communication with partners for business success?
I asked around the office what they thought of my first question: "Why are partners or suppliers not on our radar on the same level as our customers and colleagues when it comes to in-person communication?" The responses were very interesting, as a Value-added Reseller (VAR), we are constantly in communication with Partners or Suppliers and would like to use visual communication more often. We are encountering some very interesting:
We cannot reach our partner by video as they are constantly visiting clients or travelling from one meeting to the other and cannot be reached.
Email is still the preferred option for communications with partners and suppliers as identified in the survey results. Survey says, that more than 65% of interactions use email with partners compared to 62% with colleagues and 57% with customers.
Some other questions came up as well during the discussion:
Can we require of partners or suppliers to adhere to visual communication as a strategy for them to connect with CBCI Telecom employees?
Would the use of videoconference be a strong selection criterion for a new partner?
Would we reduce the amount of potential misunderstanding by requiring this type of collaboration tool to be integrated in our communications with partners?
"Eight out of 10 survey respondents said they had experienced misunderstandings on high-impact project engagement when in-person engagement options were not available or used in critical interactions."
Should in-person communications only be used for critical communications? Or could it be effectively implemented for more reasons? The Whitepaper shares the following top 5 motivations for in-person meetings with Partners and suppliers:
Generating better long-term relationships
Resolving major problems more efficiently
Resolving a problem or creating an opportunity quickly
Better understanding any underlying issues
Creating more conversations or brainstorming about additional product or service
In any instance, when it comes to communication with customers, colleagues or partners, visual communication is the most effective type of real-time option currently available to bridge the gap between a highly dispersed and global economy. It is about cutting down barriers and aligning communication strategy to business goals.
The featured infographic demonstrates clearly the importance of in-person communication. Check it out! A successful and rich communication environment cannot be achieved without 4 out of 6 of the most important attributes. Telepresence or videoconference offer a rich communication environment.
Is Teleresence the right collaboration tool for your business? You want to know more on how you can improve your communications? Let's Talk!