[New Product] Video Cloud Application Demo at CBCI Telecom Booth #101
October 17, 2011 | POSTED BY Design Shopp
Special Guest Collaboration: Emily T. Magrish, President, Vyopta
Adapting Video Communication to Organizations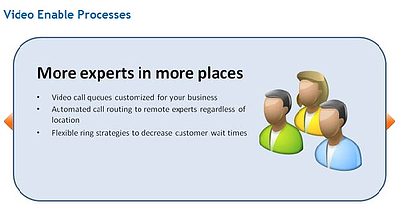 CBCI has partnered with Vyopta to introduce new cloud applications that adapt video communications to business workflows, enabling high-quality customer experience, process automation and business intelligence.  Vyopta's solutions include video receptionist/concierge service agent,  video financial services specialist, advanced educator classroom and more.
Vyopta's vAdapt application empowers instructors to provide enhanced access to education via virtual classes and online content.  Vyopta creates a technology environment that:
Uses simple interfaces for better presenter and student experience
Supports new education paradigms:

In room presentation and distance education
Custom configurable presentation layouts for each instructor
Live and on-demand access to sessions

Reduction of time to deploy and cost of maintenance/operation
Automated transcoding to support access from PCs, tablets and mobile devices
With Vyopta's solutions, video is integrated into your business workflows and processes to deliver to your customers an immersive experience. Targeted marketing messaging is delivered through the process and our system helps bring your expert resources to your customers, no matter where or when. Vyopta's vAdapt supports different business models, such as on-demand or scheduled access service models. Vyopta also has reporting and analytic tools integrated with the vAdapt workflow engine that collect technical and business data to help you optimize the utilization of your expert resources to provide the best sales and service experience for your customers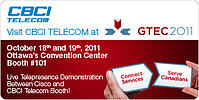 Come and visit CBCI Telecom at GTEC 2011 booth #101 to learn more about Vyopta and our other participating partners: Cisco, SMART, Samsung, TOA Canada, X2O Media and Snapstream. See you there!
Read more articles about CBCI Telecom GTEC Participation at GTEC 2011.
---
---