Here is what you can expect in booth #101!
With only 30 days left to GTEC…I thought it would be a great time to reveal what we will be demonstrating in our booth. CBCI Telecom is proud to be participating once again at GTEC, demonstrating our commitment in "Making a Difference for Canadians".
We are also very glad that our partners have graciously accepted to help us furnish our booth to showcase the technology that you want to see…
Collaboration Table from VFI Furniture
Even though it was designed primarily for the educational market, VFI's collaboration table T628T brings a clean high-tech look to any collaboration rooms. The T628T model features a 42" bar height tabletop, two large base compartments designed to house racks or PC's. The islands are designed to conceal inputs/outputs and power supplies. The monitor support is included with 3RU horizontal rack rails so you don't need to reinforce your walls in order to mount the flat panel.
Samsung LED Panels
All flat-panels are provided by Samsung. They are all commercial LED Backlit LCD displays and are sharper, clearer, and more colorful as well as consume less energy. These displays will be showcasing Cisco Digital Media Signage, SMART Interactive Overlay as well as Cisco TelePresence. More on this next week.
SMART Interactive Overlay
The SMART Board Interactive display Overlay gives you the power to transform a flat-panel into an interactive touch screen. The overlay brings digital whiteboarding capabilities to a flat-panel, enabling you to use your finger or a pen to move through presentations and briefing and training materials, navigate websites and access computer applications. You can also write notes in digital ink, save them to your files and share them instantly via e-mail.
If you have not yet registered to GTEC 2012, we would invite you do save the date and to get your pass directly on their website.
More information coming up next week, so stay tuned.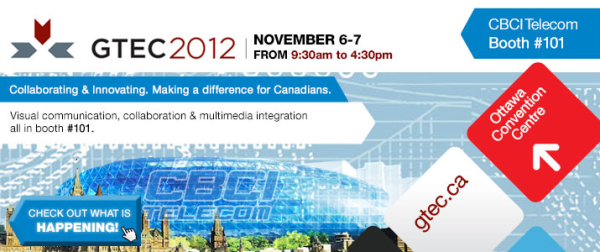 Also check out the Top Products searches for September on the CBCI Telecom Pro-AV Catalog.