Making the Best even Better!
What happens when you make the best even better? You get unsurpassable quality and "a collection of viewing surfaces unparalleled in the projection screen industry." Draper projection screens offer a wide range of different formats of projection screens no matter the need or the space. Whether the use of the screens is for presentations or for videoconferencing, Draper Projection screens can offer the best quality for the screen of your choice.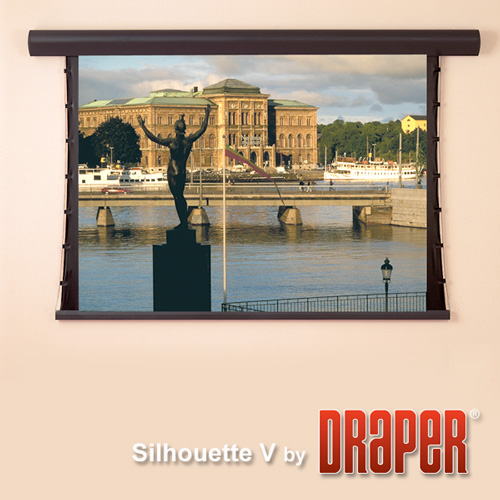 There are five different types of screens offered.
Electric screens. "Combine the perfect screen with the perfect control option and you have a quality product that delivers quality and performance." Perfect for boardrooms and auditoriums, the electric screens offer superior quality. For electric screens there are a number of formats available, Wall/Ceiling Mounted Tab-Tensioned, Wall/Ceiling Mounted Non-Tensioned, Ceiling-Recessed Tab Tensioned and Ceiling-Recessed Non-Tensioned.
Manual Screens come in less formats than the electrical, motorized screens, but nonetheless are equally as effective. They are Wall/Ceiling Mounted Tab Tensioned, Wall/Ceiling Mounted Non-Tensioned and Ceiling-Recessed None-Tensioned. Adjustable wall brackets used to mount the screens are available as options.
Rear screens or rear projection screens are offered in many formats and types from wall framing systems to flat panel wall systems. The numerous amounts of rear screens make the product perfect for an office or business setting. The formats come in: Rigid Rear Screens, Portable Rear Screens, Home Theatre Rear Screens, Video Wall Framing, Projector Support Systems, Mirror Systems and Structures, Multi Screens Systems, Custom Cube Stands and Flat Panel Wall Systems. The rear screens offer all forms and types to achieve the perfect setting for customers.
Portable screens used anywhere and anytime are the light option that still allows customers to present an ideal presentation. Whether customers use folding, tripod, or pull up screens, they are perfect for video presentations, on the spot videoconferencing and many more uses.
Last of all, fixed screens give any situation the movie theatre atmosphere and are perfect for large boardrooms and all sorts of AV, videoconferencing needs. The uses from these screens can help jump start videoconferencing and AV in any office.
Contact us for more information on Draper projections screens or to get a quote.
Receive AV Equipment updates in your inbox every month.