Is the Demand for Telepresence stretching your IT Resources?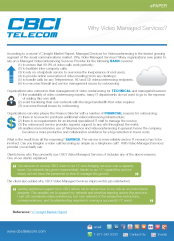 Do you currently own the necessary infrastructure equipment for videoconferencing? But your IT resources are stretched; they can't seem to keep up with the demand right? Productivity and travel reductions were in your 2012 resolutions for your organization, but your staff is constantly complaining about the lack of resources to support their use of video conferencing.
Rest assured you are not the only one.
What you need is assistance. Someone that can provide additional resources to manage your video conferencing infrastructure combined with the support your staff needs to experience an optimal video conferencing experience.
CBCI Video Managed Services is the outsourced cloud solution specifically designed for your Video conferencing needs. Choose what you need today and add any services as your organization's communication needs grow. Because we know it will.
Here are the services you can start using today:
For more information on why Video Managed Services for organizations, sign up to download our "Why Managed Services?" ePaper; and tell us what we can do to relieve your IT staffs' pain and ensure they are using visual communications to the full extent of its capabilities.