Plan to visit CBCI Telecom booth #101 and Cisco booth #907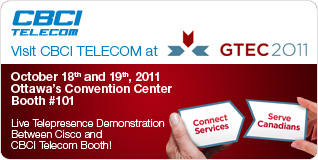 GTEC is just around the corner and our final preparation details are being looked at as we speak. It is all very exciting and I am personally looking forward to seeing you all there.
The Cisco TelePresencce MX200 and the Cisco TelePresence EX60 have been delivered to our Ottawa office this week and are being prepped for there installation on Sunday. Watch this short 2 minute video announcement prepared by Cisco to present wath to watch for at GTEC.
CBCI Telecom is even mentionned! Thank you Cisco!!
More Partners for more Great Features
In addition to Samsung, SMART Technologies and TOA Canada, two new partners will be joining us at our booth:
X20 Media: a full-service provider of software and content services for professionnal digital signage and corporate communication applications. Will be powering up our digital media suites with CBCI Telecom and Partner Contents. There will also be a live twitter feed.
Vyopta: a Cisco Development Partner and a pioneer in cloud applications for Telepresence.
Let's not forget our other great partners that will also have a booth at the show:
Cisco Booth #907
Snapstream Booth #123
Middle Atlantic Booth #105
Crestron Booth #218
Extron Booth #418
AMX Booth # 526
Read our latest
Blog posts on GTEC 2011
for more details. Also don't forget to come see us at Booth #101 for your special VIP invitation to our client appreciation cocktail. See you at the Ottawa Convention Center!