Video Furniture International New Modular Conferencing Tables
It's always nice to be sitting at a comfortable, convenient conference table when having a video meeting. Many organizations today are either at desks or in small conference rooms when they have their video meetings. CBCI Telecom offers the Video Furniture International wide array of comfortable, visually aesthetic and convenient videoconferencing tables. These videoconferencing tables are easy to install and easy to use and comes with a VFI warrantee.
The wires that connect the custom build centerpiece are compatible with Mac, PC, iPad and located inside the table. Wires are now hidden directly into the table's integrated module; you do not need to purchase a separate module to have a clean installation. The custom built center piece is also the only part of the table that needs to be changed when you upgrade your technology. It simply is the most convenient option for your videoconferencing table. Of course to make things more convenient these tables can have extensions to make them bigger if need be.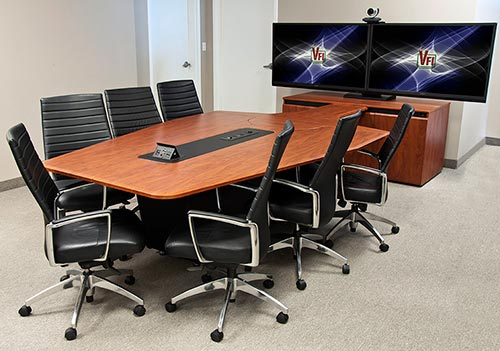 The first of the VFI new products is the T4000 Video conference table, which offers customers the ability to sit 7 people at the table and connect computers or USB key as needed to the 1 or 2 displays attached to the table stand. This table is perfect for team settings and offers the ability to be available for a meeting with anyone from anywhere at any times. The VFI videoconference tables can be customized conveniently. The classic conference table look is always available with the ability to connect to 1 or two Flat panel displays, but an open configuration is now available with the ability to connect up to 3 displays if needed. The open configuration allows for a panoramic of all screens at once, which has proven to be very convenient for meetings and presentations.
The new collaboration tables are a revolution in teamwork for students and co-workers alike. Time and time again, students are stuck in busy library's sitting on the floor, standing up and peeking over their friend's shoulder to read notes or work on projects. With the T628T, which can seat up to 8 people sitting or standing, and the T324, which is small enough to fit in a hallway or classroom seating up to 4 people, space can now be used in an effective and convenient way for people to share information with each other and work together.  The control panel activates which computer screen is displayed on the large LCD display making it easy and effective to present projects and eliminate peeking over shoulder's when questions arise. Similarly to the videoconferencing tables, the collaboration tables are compatible with Mac, PC and iPads.
Access the T628T Collaboration Table Spec Sheet.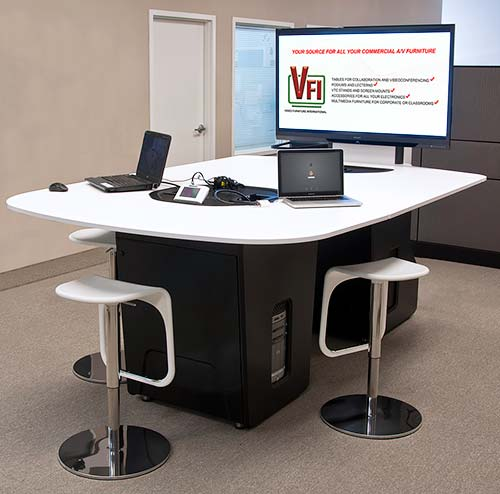 The VFI products along with CBCI Telecom are making it easy for you to use videoconference and share information. The convenience of these conferencing and collaboration tables are helping promote and enable videoconferencing for hundreds of organizations grow as industry leaders.