Authored by Henry Cheang
Wouldn't it be great if the things we draw on dry erase boards were easily shared and stored?
I have a mild declaration to make: My handwriting is terrible. It's so bad that even I have troubles reading it afterwards. This is what happens when typing becomes second nature – handwriting just atrophies. However, my drawing skills are as sharp as ever. This is fortunate, since there is a lot of information that is simply expressed, much, much better via diagrams and illustrations. As I've stated before, human beings are hard-wired for visual processing!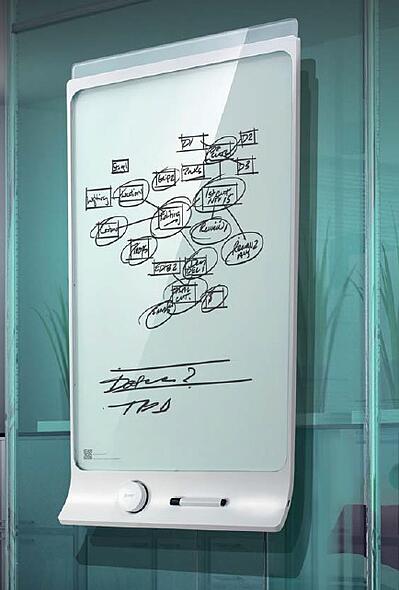 Which brings me to one of my frustrations with a particular work practice: The dry erase board. Now, it's a fantastic invention because it really allows us to visually illustrate concepts and ideas in quick, diagrammatic fashion. At work, we literally have over 10 offices that have at least one full wall that's completely dedicated to dry erase work (and every wall in our "war room" serves as a dry erase wall). This really conveys information quickly in team meetings. They are absolute assets.
That said, when it's time to leave the room, we end up having to photograph the diagrams and plans so as to have a permanent record and/or to share it with other teams who might be involved with the project in question. I don't know about you, but for me, this gets messy really fast. Wouldn't it be great if this content could be more easily shared and stored?
Fortunately, Smart Technologies had the same thought. And unlike most other people, they went right out and solved the problem! They created the SMART kapp!
SMART kapp allows easy storage and sharing of dry erase content!
There's nothing virtual about the SMART kapp – it actually is a dry-erase board. You're using actual dry erase markers to write and draw directly on the board! There is no learning curve – if you already use dry erase as part of your workflow, you've learned how to use the SMART kapp. What sets the kapp apart is that it allows you to:
Store your created content as a JPEG or PDF
Collaborate in real-time with remote users (and, obviously, everyone else in the room with you)
Connect your iOS or Android device to the SMART kapp via QR code, near-field chip, or Bluetooth to save content as snapshots and share work in real-time.
And that's the content-creation aspect of the device. Functionally, the SMART kapp also has other practical issues covered as well:
The kapp has an included wall mount and is VESA-compatible. It's easy to mount the kapp for mobile and free-standing configurations.
Security isn't really an issue. The moment you disconnect, the digital versions of the content is gone (of course, that means that you really need to share the content before you leave your meeting)!
On a related note, you can automatically share SMART kapp snapshots to Evernote notebook, provided you have an Evernote account and have it set up for automatic synching of the dry erase material.
I'm honestly pretty excited by the SMART kapp. The volume of dry erase work we do at the office is enormous, and I'm having trouble keeping track of the many photos that I've taken and shared with colleagues. The SMART kapp would go a long way toward making my job easier – it really does have the potential to be one of the best collaboration tools ever. I'm pretty sure it'll do the same for you! Contact us at CBCI Telecom to find out how!